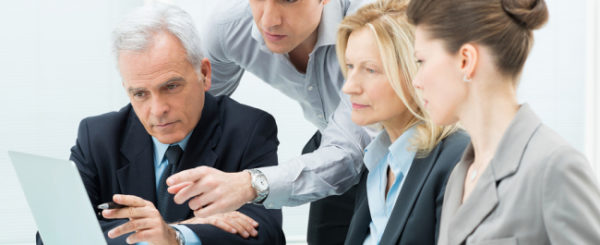 There has recently been a lot of interest in how millennials and boomers can better get along with one another. In fact, rather than working alongside one another, the two demographic groups are often known to blame the other for their dissatisfaction with life. Boomers often complain about the millennials' lack of loyalty and work ethics; while the millennials usually perceive the older group as dinosaurs whose reluctance to retire accounts for the high percentage of youth unemployment.
As a recent Globe and Mail article commented, young people are regularly maligned for being self absorbed and entitled; not willing to "pay their dues;" and impatient to get the promotions and compensation they feel they deserve. Consequently, the widely held sentiment is that they cannot be counted on to stay in one company for long, nor ever be loyal to the company. However, boomers' definition of loyalty may, perhaps, need to be redefined. Take me, for an example – I've worked with only two firms in my professional consultancy career: one for 12 years and the other for close to 18 years. The first one is a global leader in my field and offered me a one-year training program in New York City when I first started out in my career. Thereafter, it had been a vertical trajectory in my career path within that organization in Asia and North America. The second organization, from which I retired, is a national pioneer and leader in Canada. I was made a partner in its largest office in Toronto – the first woman and the first Asian Canadian – after three years with the firm. There were lots of temptations during my 18-year tenure there to move elsewhere or to start my own business. But, the firm always gave me opportunities to grow and learn, and to take up new challenges just at the time when I might feel bored and itchy to move. So when I was working there, loyalty meant a "lifer" with the company.
But the millennials' frame of reference is very different – they think of being tied to an organization in terms of months, not years. Career employees are no longer dreaming of the day they retire with gold watches at the age of 65 or even younger. Today's millennial employees are probably thinking of themselves more as free agents. They get bored easily and are always looking for variety and exciting opportunities. They do not want to be stuck with only one-track responsibilities. They want plenty of opportunities to learn and have fun at the same time. While boomers are, very often, workaholics, millennials want more work-life balance instead. Employers need to showcase a work-hard, play-hard environment, and flexibility is key. Even then, you can't expect your employees to be with you forever because most of them won't. If you do all the right things to motivate your millennial employees, you might get them for at best three years.
A major TV news outlet recently contacted me to gauge my interest in joining a millennial-boomer duo panel on a weekly basis to discuss topics such as the purchase of a home in your 30s or when is the right age to get married. The TV program is still work in progress, but I think the media outlet understands that this would generate interest among both demographics. Points of view will, of course, differ between the two generations and, at times, there might even be a showdown.
The best approach, however, is to create opportunities for boomers and millennials to work harmoniously with and learn from one another. The Hollywood movie, The Intern, featuring Robert De Niro as the intern and Anne Hathaway as the millennial boss, has now become reality. According to The New York Times, a few enlightened U.S. companies have already paired older executives with junior workers so that the latter could mentor the former. Millennial mentors, as many companies call them, are being pulled into formal corporate programs to give advice to the top ranks of their companies. Some executives want the views of young people on catering to new markets and developing new products; while others are simply looking for glorified tech support – Snapchat 101, Twitter tutorials and emoji lessons.
Renowned companies such as Mastercard, Cisco Systems and Mars Inc. have experimented with these mentoring programs. The same New York Times article reported that the chief executive of insurer Lloyd's of London has said that her 19-year-old junior mentor has a totally different perspective and leaves her inspired. Even Gen-Xer managers are catching on. David Watson, 38, a managing director at Deutsche Bank, who has been mentored by a 29-year-old engineer in the Wall Street bank's global markets technology division, said that he's been given good tips for retaining young employees, like giving them more flexible work-from-home arrangements, and with helping him spot trends in the financial tech industry.
Reverse mentoring – younger people training older workers – is apparently not a brand new concept. In the 1990s, Jack Welch, the then chief executive of General Electric, required 500 of his top managers to pair up with junior workers to learn how to use the internet.  Boomer executives are now obsessed with better understanding millennials. It was reported that millennial consultants now advise companies like Oracle, Estee Lauder and HBO, charging as much as U.S.$20,000 per hour to give executives advice on marketing their products to young people. Overall, American organizations spent about U.S.$80 million on "generational consulting" last year, according to Source Global Research, a firm that studies the consulting industry.
Rather than hiring outside young consultants, many companies prefer to use the young people already on the payroll. Instead of a top-down management hierarchy, mature senior executives find sitting down with someone who's on the org chart six levels down an educational experience. The traditional mentoring benefit remains in place so that millennials continue to learn from more experienced corporate leaders. But mentoring in both directions helps improve relationships and encourage collaboration within the organization. Instead of a showdown or a blame game, millennials and boomers can definitely co-exist in the workplace in harmony.