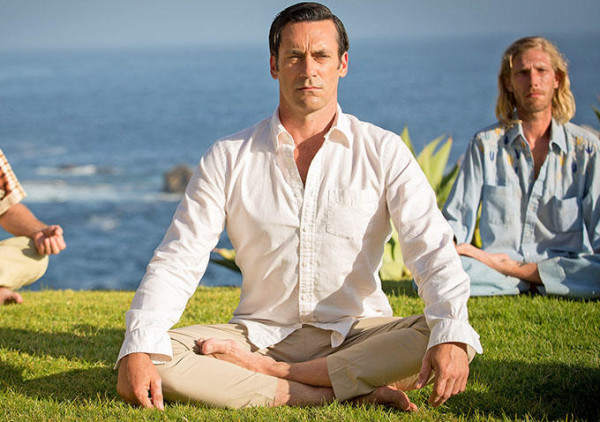 By now, all the critics' analyses of the final episode of the seven-season-long TV drama Mad Men have died down. But the yearning still remains – there will be nothing anymore on TV on Sunday nights to look forward to; no more disputes about the interpretations of what each episode meant; and no more nostalgia of the '60s and '70s fashion!
I've always loved this TV drama because it was not just a nostalgic piece for us boomers, but, rather, a cross-cultural and cross-generational, pop-culture masterpiece that has created controversy and generated different interpretations of the story development and the viewers' affinity with its characters.
I watched the final episode twice in order to get into the full essence of what creator Matthew Weiner wanted to say. And here's a spoiler alert: do NOT read on if you haven't yet seen the final episode and are planning to watch it on Netflix! I think as loyal followers of this TV drama for the past seven years, we all thought Don Draper was going to die towards the end. From the illustrations at the beginning of each episode about him falling down a skyscraper building of Manhattan to Jon Hamm's (the actor playing Draper) hint about his character's destiny on TV talk shows, Draper's death seemed like an inevitable end to a dark drama like Mad Men.
Yet, the brilliance of Matthew Weiner lies in the fact that he wanted the entire TV drama to end like the satire of the whole show – it's a satire of the advertising industry in the '60s and '70s and, therefore, it should end with a brilliant commercial of its times. The "I'd like to teach the world to sing" Coke commercial has always brought goose bumps to the marketing world, and with Don giving us a smile and smirk in his final scene on top of a cliff while participating in his group meditation, we've come to realize that Don has come to recognize and identify himself as an advertising man after all his torment and soul-searching. Coca-Cola was so undeniably McCann-Erickson that it's natural that only Don Draper could be the creative genius that invented this wonderful commercial after McCann has acquired Sterling Cooper Draper Pryce.
Although Peggy has always been the feminist on the show, it's most appropriate to have Joan, the former secretary constantly harassed by the male characters in the drama, be the ultimate woman who achieved independence and quit McCann and her rich beau to set up her own company while raising a young son at home. What I don't understand is why Weiner had the most despicable ad executive on the show, Peter, be on the road to fame and wealth by giving him the most enviable job from a private jet company. Perhaps, one of the creator's key messages was that all successful advertising executives could be somebody like Peter – slimy, social-climbing, womanizing, lazy and manipulative while sucking up to their bosses and clients!
We will all miss Mad Men, but I'm sure the TV drama will, in no time, become one of the classics to be studied at universities and drama classes because not only did it trace the historical milestones of that era (the assassinations of JFK and Martin Luther King); it also tracked the roots and rise of feminism; it portrayed racial and sexual discriminations within the office environments of the advertising world; and it depicted lies and deception with great depth and irony!
I don't know about you, but this is the only TV drama that's worth watching over and over again. I, for one, will start watching all seven seasons again over time on Netflix and savour what I've missed when viewing it the first time!